THIS ARTICLE IS OPINION-BASE
TO AVOID LEGAL DEFAMATORY ISSUES, WE ASSURE YOU THAT THIS ARTICLE IS BASED ON THE OPINION OF THOSE WHO DISLIKE OR HATE LADY GAGA.
WE DO NOT CONDONE DEFEMATION, NOR DO WE ENCOURAGE HATEFUL SPEECH.
THE RUMOUR
Everyone's heard of it, right? Well, I think it's true. Lady Gaga should change her name to "Lady Guy-Guy" because this woman/man/thing/all three has a penis. We don't quite know if there's a vagina... :/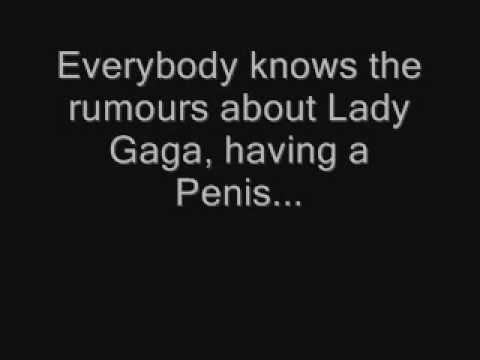 You see all the pictures of her when she's half naked and you can't help yourself to look down on her/him/it to check whether or not it's true. You start to think "I swear to God, there's SOMETHING THERE!!!" It makes you wanna puke, don't it? Yeah, "I doubt I could EAT the amount I wanna puke." (Stan Smith, Character in "American Dad")
The way she dances makes you think she's trying to shake away a cock-wedgie that her skintight clothing is giving her. I swear, she's probably gonna end up living on the streets as a whore/man-whore/both by 2016. She is so ugly that when she just sticks her head out of her window, she diserves to be arrested and thrown in jail for indecent exposure. Lol!
Lady Gaga is apparently bisexual. Lol! She can't get one of 'em, so she tries to expand her search for a date. She is so ugly that when she was born, the doctor asked her mom if she had intercourse with a Tusken Raider. (Tusken Raiders, also know as the Sand People in "Star Wars") Also, she's so stupid that she tripped over a wireless phone wire. Lol!
Raptor Maniac 07:16, July 30, 2012 (UTC)